Telling It All From The Heart
Be still and know that I am God, Psalm 46 v. 10. When we come to understand this verse in the Bible we know that we have to put everything in God's hand and let God work. Know for certain that God is in the midst of your situation. Trusting in Him and leaving your situation in His hands. All things come to those who believe in His Word. God is always on time in all situations. We need to put all our issues into God's hand and Let Go and Let God work in our lives. God will not forsake us. Keep holding on to the Faith. God makes all things beautiful in His time.
How The Book Came About
When I was going through my own issues, I was not sure what to do. Although, I spoke to a family member or friend about some of my issues, I was still going through my own pain, then I heard a still small voice inside of me said:
My child, why don't you "Tell it all to me", I will never forsake you, I understand your pain, put your trust in me. That still small voice was "Jesus". He said to me, "be still and know that I am God". I started telling it all to Jesus. I cried out my heart to Him, I said, Jesus, Jesus, and in the midst of everything, my words developed into a manuscript. You see, God said, He would never leave us nor forsake us. Tell it all to Jesus.
To get a copy of the book, order from Paypal
---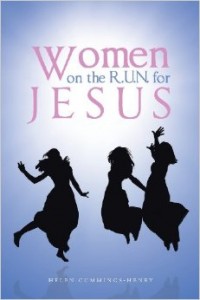 Women on the R.U.N. for Jesus
Empowering women to be all that God wants them to be!
In early New Testament times, women gathered at the well, drawing water and talking to one another about their lives and probably helping to advise each other about the problems or dilemmas in their lives. But one woman went to the well when she knew the others would not be there because of her shameful lifestyle that was unacceptable.
She waited until much later, thinking she would avoid a confrontation with those who she knew would avoid her and look on her with disdain. But along came Jesus, who knew when she would be there and brought along understanding, compassion, and love. He left out condemnation and judgment and instead brought GRACE. (God's Riches At Christ's Expense)
It was this encounter that changed her life and her lifestyle.
The purpose and the vision of Women on the R.U.N. for Jesus is to
minister to the total woman (spirit, soul, and body);
gather women from different ethnic backgrounds and Christian denominations;
open the doors of communication through fellowship; and
provide the tools necessary to become the women that God has called us to be.
Women on the R.U.N. for Jesus started with two women who were hungry for the Word of God. "For where two or three are gathered together in My name, I am there in the midst of them" (Matt. 18:20). The group meets once a month to empower women to become all that God wants them to be. Please join us!